What We Can Offer

INeedAFundraiser.com is now proud to partner with Old Trapper!  Get our Old Trapper Round Double Eagle Jerky jars that contain 80 pieces.  There are four different flavors available - Old Fashioned, Teriyaki, Peppered & Spicy!  Samples available upon request.  Your organization can sell each of the flavors!  Jars can be sold for your choice of pricing between $20 and $27 each, which is less than these jars are sold for in convenience stores.  Our suggested pricing is $25 per jar - and your cost would be $14.85 per jar.  
---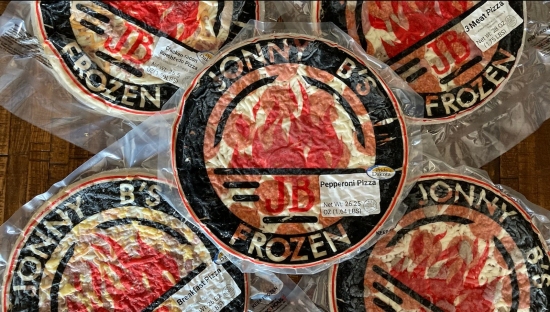 Who DOESN'T love pizza?  This fall, INeedAFundraiser.com partnered with Jonny B's Frozen Pizza to bring you the best tasting premium pizza you can find! Jonny B's Frozen Pizzas are hand-made in Jamestown, North Dakota and vacuum-sealed to maintain their fresh-made taste - and with the best quality cheese, toppings, and a crust that makes you want to eat the crust, this premium pizza sells itself!  Your organization will make 30% to 40% on every pizza you sell!  Most retail stores sell these for $13-$15... but when you add Jonny B's Frozen Pizza to YOUR fundraiser, you'll pay $9 each - period.  Then, set your price and WATCH the fundraising dollars roll in!  Because of the current demand for this new fundraising opportunity, INeedAFundraiser.com is limited on the number of fundraising groups we can accept - so DON'T DELAY!  Reserve YOUR slice of the pizza pie TODAY!  Get all the info and sign up for your shipment of JOnny B's Frozen Pizza today and contact Dave Reed at (701) 320-8935.  Because these pizzas are in high demand and guaranteed FRESH, we're currently only able to provide this fundraising opportunity to organizations in NORTH DAKOTA.
---

Anacorda cables are 10 foot, high quality, Apple certified charging cords.  Cords come in assorted colors and are available for Apple iPhone, Micro, or Type-C.  Cords are guaranteed to work!  Sell cords that will have your customers/donors calling your fundraising team year after year!